The identity of our wines is drawn through three inseparable elements
People, terroir and grapes are the three essential elements in Bodega Fabio Coullet to create our wines.
The people, who with their expertise and experiences manage to capture a unique way of dealing with the vineyard. The care for the vine and the bunches of grapes as our ancestors understood it in La Axarquia area. 
The terroir, so singular and unique in our land. This links us with tradition and our history. The land. The roots. Decomposing limestone soils that in some areas reach 70º of unevenness, where we help ourselves with mules or man's own strength, in areas where it is impossible to reach with machines and that define our own way of harvesting and viticulture.
And of course: The grape. The autochthonous varieties of our zone and that complete the two previous pillars, thus completing the circle.
Viticulture of respect, inherited from our ancestors. Processes of minimum intervention in a dedicated ecological process and maximum respect for the different varieties to achieve sincere and honest wines, the most faithful representation of our territory.
These are the wines of Bodega Fabio Coullet.
100% Garnacha from Axarquia. Fresh and mediterranean, heroic viticulture on hillsides with slopes with gradients of more than 70%, harvested by hand and taken from the plots on the shoulders of mules. and by the force of mules, these grapes are harvested at the maximum point of expression of their terroir, fermented in stainless steel tanks with a percentage of stalks and the rest whole grapes, taking care the rest whole berries, taking maximum care of the freshness of the fruit and then is refined in French oak barrels of 500 liters used for at least 4 months.
100% Moscatel de Alejandría, coming from a goblet-grown, dry-farmed vineyard.
This wine shows the refinement of the Moscatel grape from the plot known as "Villazo" aged in French oak barrels. Manual harvest in boxes of 11 kilos, slow fermentation at low temperature with wild yeasts to preserve the aromatic freshness of this differentiated "climat" of the Axarquia in Malaga.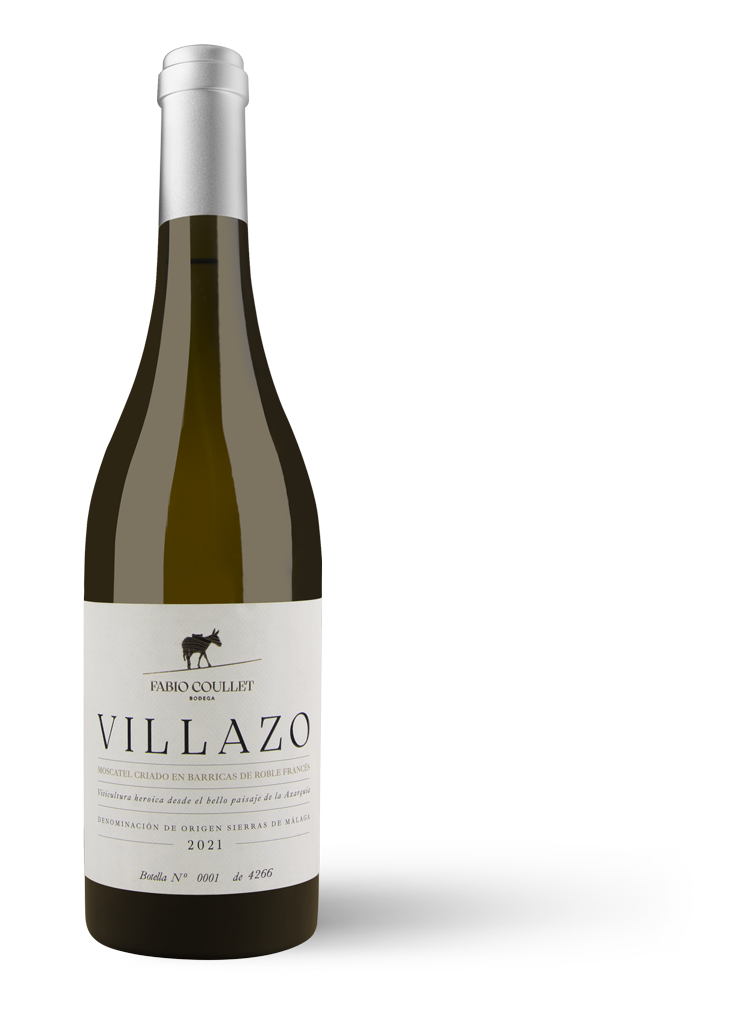 Secuencial is a sensory journey through Malaga. A landscape wine, which perfectly reflects both varieties that compose it: Doradilla, Pedro Ximénez and Moscatel de Alejandría, as well as the Mediterranean landscape itself, full of freshness and aromas that each of the terroirs of the province of Málaga.
Moscatel from the mountains of the Axarquia, Pedro Ximenez in the highest areas of Los Montes de Málaga and Doradilla coming from the highlands of Molina.